Here in the northern hemisphere it's Winter with cold temperatures and long nights. This is a perfect time for a festival celebrating art and light, and that's exactly what the city of Amsterdam hosts every year from the end of November to the end of January.
This year's Amsterdam Light Festival marks the sixth year for the event. Each year a different group of artists, designers and architects create light-based sculptures and installations that are exhibited along the canals in the center of the city. Some artworks float in the water, some line the banks, and others span over the waterways.
For the first time, this year's festival also includes sculptures and installations exhibited beyond the canals. Of the 36 total artworks included in the official event, 15 pieces are exhibited on dry land at Marineterrien, an historic naval dock located on an island a short walk from Amsterdam's Central Station.
Every year the Amsterdam Light Festival has a theme and this year's theme is "Existential." Next year the theme will be "The Media Is The Message."
Let's look at the work of a few artists…
Included in this year's festival are artworks by the Chinese artist/activist Ai Weiwei, the Sri Lankan/British artist/designer/engineer Cecil Balmond, and American artists Lauren Ewing and Ben Zamora.
Ai Weiwei has created a 6.5 kilometer red line that runs though the exhibition area. The piece is titled "thinline" and is a statement about borders that mark the outside edges of things as well as borders that separate people and places.
Cecil Balmond is represented by a partially submerged floating pyramid titled "Infinata." The form appears to be fractured revealing a crystalline interior. It poses the question: Does the essence of existence lie exclusively in what we can see and touch or is there more beneath the surface or hidden inside?
Lauren Ewing's sculpture "Lightwave" rests on the bank of a canal. Ewing has long been interested in global warming and other environmental issues. This sculpture suggests water rising from its current level until it covers the banks and obscures its surroundings – a particularly poignant statement in a country already largely below sea level.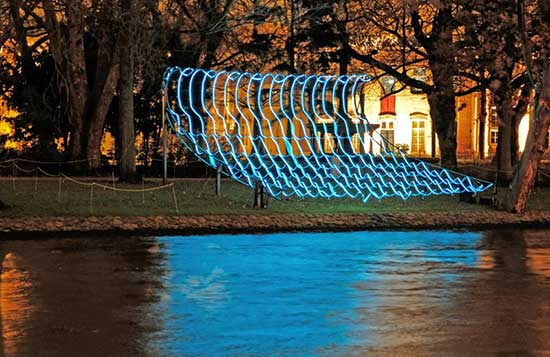 Ben Zamora's computer controlled sculpture is titled "Myth." It consists of a tight grid of short horizontal, vertical and diagonal lines. The lines of light turn off and on in random sequences that start slowly and build to a frenetic pace. The sculpture suggests language in a variety of forms from petroglyphs to the printed page to graffiti.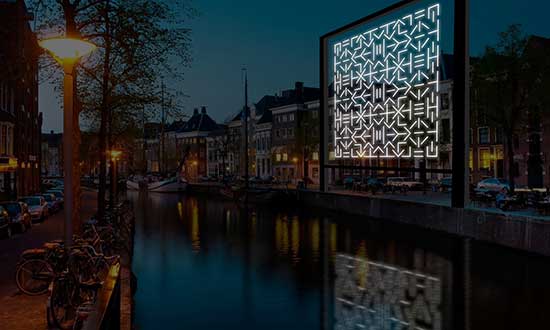 Here is a short video by Wensleyde.com showing more of the festival's artworks. In the video you can see the sculptures and installations as a visitor to the festival would see them. For those of you reading this blog post in e-mail click here to see the video.
Follow this link to learn more about the Amsterdam Light Festival.