At the start of every week I begin to investigate a topic for my Thursday post. Usually I'm at a loss for an idea and just as I'm ready to panic one emerges. On Monday, after several hours searching online for inspiration I realized I had hit a wall and the best solution was to go on a long walk. As I waited for my walking partner to get ready I leaned against the wall in my living room and stared mindlessly into space. That was when I noticed the small shaped wooden panel wrapped in lead and partially covered in gold leaf. Made by an artist friend, I've had it for years and like all things that become familiar I'd forgotten how much I like it. Gold and lead. Heaven and earth. Alchemy.
Here was an idea – the use of gold, either cast as solid metal or used in fine sheets. There is a long history of the use of gold – employed and revered by ancient civilizations, found in religious paintings and manuscripts, topic and material in conceptual works of the 20th and 21st centuries. A year's worth of blog postings would barely scratch the surface. Time to narrow my focus. I could look at an artist like Yves Klein or perhaps discuss Joseph Beuy's performance piece, "How to Explain Pictures to a Dead Hare." Maybe the solution would be an investigation of Indian miniatures.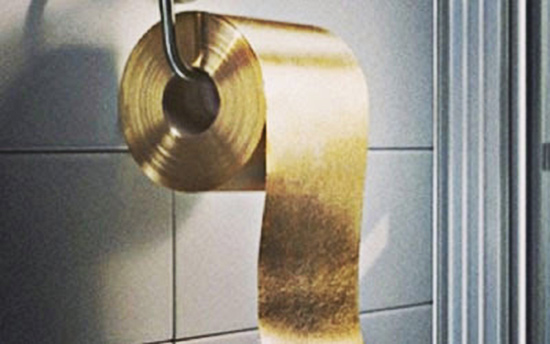 I began to type into the google search bar variations such as "art and gold" and "gold objects." Still too broad. Things got interesting when I entered "odd gold objects." That was when I found a roll of toilet paper worth over a million dollars – can this be true? What else? A solid gold coffin. Numerous edibles, from pills to cheese. Solid gold shirts costing close to half a million dollars.
From all this wealth of information and imagery I've plucked one contemporary artwork to discuss today. More will follow in a future post.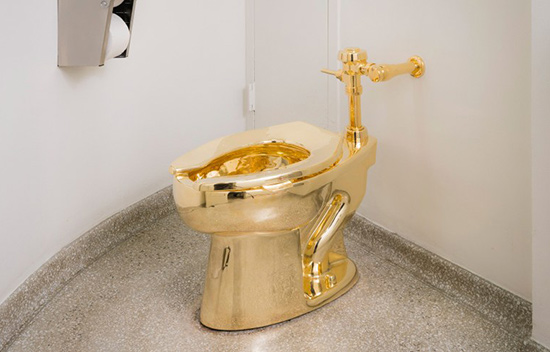 After showing you an image of gold leaf toilet paper, which may have been an advertising ploy, it's only natural that I'd select artist Maurizio Cattelan's "America," a fully functioning 18-karat gold toilet, for further discussion.
Cattelan is known as a joker who uses biting humor to interrogate difficult social and political situations. He conceived of "America" in 2015, about the time Donald Trump decided to run in the presidential election. It's not clear if this project was a direct response to Trump, who is famous for his bad taste – gilded and gold objects everywhere, including a private jet with solid gold sinks and faucets (the Guardian has even described his Trump Tower penthouse as "something that King Midas threw up after a big night out on the shandies"). Regardless, the timing of the piece, like that of much of Cattelan's work, was perfect, appearing to predict and respond to the future.
The toilet cost millions of dollars to produce and was designed as a year-long installation at the Guggenheim Museum in New York. Available for public use and installed in a gender neutral restroom with a guard outside the door, over 100,000 people stood in long lines to make use of this golden throne. Cattelan called the toilet "one-percent art for the ninety-nine percent."
There is an excellent article about the project written by Guggenheim curator Nancy Spector, which I suggest you read, but I want to include this short excerpt – "America," like all his greatest work, is at once humorous and searing in its critique of our current realities. Though crafted from millions of dollars' worth of gold, the sculpture is actually a great leveler. As Cattelan has said, "Whatever you eat, a two-hundred-dollar lunch or a two-dollar hot dog, the results are the same, toilet-wise."
The story doesn't end with the deinstallation of the piece. Like many Presidents before him Trump requested the loan of an artwork from the Museum, to be hung in his private quarters in the White House. Being Trump he wanted an exorbitantly valuable painting, "Landscape With Snow," by Vincent van Gogh. Spector politely informed him that the painting was already committed to another show and was overwise not allowed to travel. Generously, she offered him Cattelan's "America," the perfect reflection of Trump's "Make America Great Again" philosophy.
Ballsy. Makes me believe that maybe good and great things can happen in America again if we all stand up whenever and wherever we can and yell, "You are an obscene and ignorant fool who needs to be removed from office!" Let's unseat him from his golden throne.