Two weeks ago I wrote about the use of gold by artists and designers. I discussed "America," an interactive sculptural installation by Maurizio Cattelan. Today I want to talk about two contemporary artists, Yeesookyung and Rachel Sussman, who use kintsugi, the Japanese art of repairing broken pottery with lacquer and gold.
Kintsugi, also called kintsukuroi, translates to golden joinery or golden repair. It is part of a celebration that values age and a history of use. Instead of throwing away a broken object it makes it even more valuable. Rather than hiding the repair it emphasizes it. Kintsugi can be seen as an extension of the Japanese philosophy of wabi-sabi – the aesthetics of the "imperfect, impermanent, and incomplete."
Kintsugi is the art of carefully applying multiple layers of lacquer along the broken edge between two pieces of pottery. The process is time consuming, involving meticulous sanding between each layer of lacquer. Additional layers of lacquer mixed with gold dust are then added until a fine golden seam joins the broken pieces.
Korean artist Yeesookyung is a conceptual artist who works in a variety of media. The pieces I want to look at are part of her ongoing series titled "Translated Vases." You could call these kintsugi on steroids. Instead of joining parts from a single broken piece of ceramics she joins together pieces from multiple sources, creating organic and bulbous forms that resemble rampantly mutating cells.
Korea has a long ceramic tradition in which craftsmanship is supreme and even slightly imperfect works are destroyed. Yeesookyung has been able to collect the broken shards from ceramic workshops that specialize in fine historic reproductions of pottery from the Goryeo (918–1392) and Joseon (1392–1897) dynasties. She then reassembles them using epoxy and 24 karat gold. Her larger sculptures are built around a metal armature which  adds structural strength.
About the work Yeesookyung says, "From the moment of destruction, I obtain a chance to intervene and fabricate new narratives with my own translation… I am attracted to failed, broken or ephemeral things. Things in a broken state provide me with a chance to intervene. It is not about fixing or mending, but about celebrating the vulnerability of the object and ultimately myself. This broken state allows me to explore new narratives which are not bound by hierarchy. The narrative gives rise to a real world, even more concrete that this existing world, built by art practice and filled with countless endeavors to reach sublime beauty."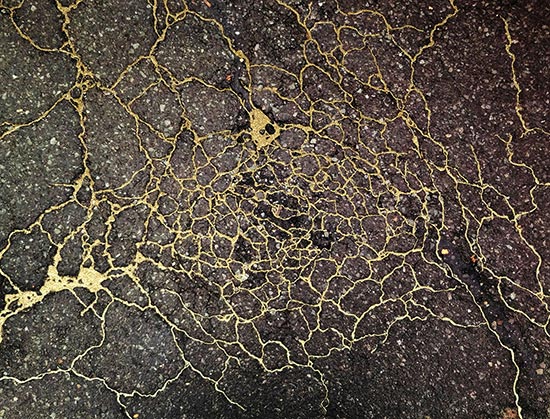 Like Yeesookyung, Rachel Sussman has taken a traditional process and recontextualized it. Her series, "Sidewalk Kintsukuroi," contains both installations and photographic studies – the studies consist of photographs embellished with enamel paint and metallic powder. Aging and deteriorating roads and walkways have been mended by applying the technique of kintsukuroi. The juxtaposition of thin lines of precious gold with the industrial and utilitarian materials that are part of our infrastructure is startling. The unwanted cracks have been transformed into something of extreme value, drawing our attention to a history we usually overlook.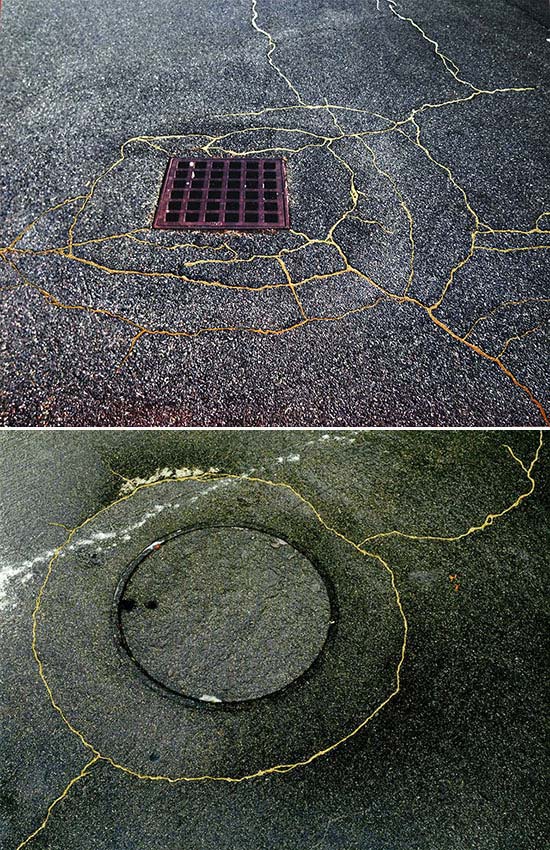 Sussman's work has long centered on ideas about time. She became famous for her photographic (and book) project "The Oldest Living Things in the World," which documented organisms that are at least 2000 years old. About the time she finished that project she became aware of kintsukuroi and thought it meshed with many of her ideas about time and impermanence.
"I had spent 10 years looking at ancient organisms who have withstood the test of time. I was already connected to the aesthetic philosophy of wabi-sabi inherent in the work and the organisms themselves: quiet and imperfect, bearing the proud patinas and injuries of age, while flirting with the boundaries of permanence."
The cracks in our roads and sidewalks become markers of the passage of time. With age and use pristine surfaces succumb to entropy. Sussman's repairs emphasize this change. Even they will be worn away, nothing more than slight hints left of their presence. Sussman sees this all as part of a natural process. With her work she hopes to get us to slow down, to weigh our sense of personal time with "cosmic time," to appreciate the beauty in decay, and to understand our place in the natural cycles of life.