Earlier this week a team of technicians and researchers armed with some of the most advanced equipment available began an extensive examination of a small oil painting dating from the mid-1600s.
The painting is Girl with a Pearl Earring by Johannes Vermeer.
Girl with a Pearl Earring is one of those iconic images that nearly everyone knows. It's often called the Mona Lisa of the North or the Dutch Mona Lisa because it rivals DaVinci's famous portrait as a recognizable image.
Like Mona Lisa, Girl with a Pearl Earring has captured the public's interest as a portrait imbued with mystery. Unlike Mona Lisa, however, most art historians do not believe this is a portrait of a specific person. They think it is a "tronie," a somewhat stylized and/or composite image representing a type of character or a type of painting. Some think that Vermeer's oldest daughter may have served as the primary model for what is essentially a study of facial expressions and costume.
Johannes Vermeer is known for his meticulously organized and carefully painted compositions. He worked slowly and methodically, demanding perfection at every step of his creative process. As a result we have only 34 paintings today that scholars accept as Vermeer originals.
For nearly 200 years after his death Vermeer was considered just an artist from Delft. Girl with a Pearl Earring stayed in private collections and was not particularly revered. In 1902 it was donated to the Mauritshuis museum in The Hague, Holland.
In the late nineteenth century Vermeer was "rediscovered" and a growing number of scholars started to see him as an important figure. When twentieth century historians learned more about him Vermeer became widely recognized as one of the premier masters of Dutch painting.
In the 1990s Tracy Chevalier wrote a best selling novel titled Girl with a Pearl Earring that was turned into an Oscar nominated movie of the same title. Shortly after that the painting was featured in high profile exhibits in the United States and Japan.
Vermeer's rediscovery, combined with media and artworld attention, helped make Girl with a Pearl Earring one of the best known images in the world.
That brings us to February of 2018 and this current effort to examine the painting in depth.
The last time Girl with a Pearl Earring underwent intense scrutiny was in 1994 when it was examined using what were then state-of-the-art techniques. Scholars studying the work even removed a few pinpoint specks of paint and did chemical and microscopic analyses of the samples.
In contrast, today's state-of-the-art tools are completely non-invasive yet much more revealing. There will be no need to remove any paint samples.
Just a few of the highly advanced processes being used this time are: Macro x-ray fluorescence scanning, multispectral infrared reflectography, infrared and visible reflectance imaging spectroscopy, and optical coherence tomography. State-of-the-art indeed.
Some of the things the researchers expect to learn include: The steps Vermeer took to create this work, how specific pigments are distributed across the painting, and detailed information about paint layers including translucent glazes. They also expect to develop a high resolution 3D topographical map of the painting.
In addition to analyzing and mapping the painting, researchers will scan its entire surface with microscopes capable of enlarging details 7,000 times.
When the process is complete the team hopes to create an accurate digital version of what the painting looked like at the time Vermeer finished it. What we see today has been altered by time and multiple restorations. The painting's background, for example, was originally a dark greenish black but now appears as a simple black with no color cast.
Because Girl with a Pearl Earring is so popular with museum visitors all of this scanning and analysis must take place quickly once the painting is removed from the wall. It will all happen over a two-week time period – working 24 hours a day – before the painting is put back on exhibit.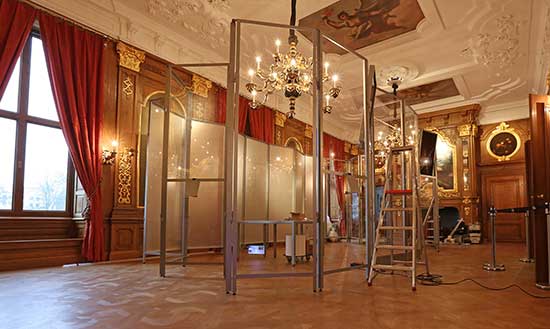 All of the scanning and most of the analysis will happen behind a temporary set up of glass partitions in an upstairs gallery. This will allow visitors to watch the activity as it occurs.
At the end of the two weeks Girl with a Pearl Earring will be one of the most examined and documented paintings in the world. We should know much more about Vermeer's process and the materials he used. We should also have an amazing digital record of this beloved masterpiece.