Two weeks ago I wrote about the use of repetition and its relationship to the design principles of Balance, Unity and Variety, the Grid, Pattern, and Rhythm. Today I want to present some more examples of works that utilize repetition.
If you haven't read my previous post here is a link to Repetition and the Principles of Design (Part One).
Repetition is easy to spot. If you look at the examples from my prior post it shouldn't take much effort to grasp its use. That's also true of most of the art shown in this post. But, there are also more subtle ways to employ repetition. The first image below, painted in the 1660s by Diego Velázquez, is an example that I'd like to take a moment to discuss.
In this portrait of Queen Mariana of Austria Velázquez uses repetitions of color, line and shape to move the viewer's eye through the picture. The focal point of the painting is the Queen's face, which is emphasized by the strong red horizontal line of what appear to be flowers woven into her hair. We find this red color repeated throughout the painting. Our eyes move between the line of flowers and the two red forms at her wrists. As we look further we notice that she is framed in space with the color red – a table cloth in the background, and draperies above and beside her. Taken together, the various shades of red unite and balance the composition.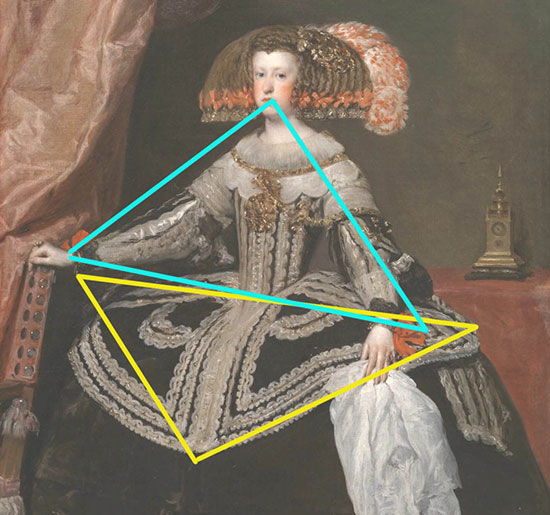 In addition, we can connect the strong reds at her wrists and her red lips (which are at the center of the red line of flowers) by drawing imaginary straight lines, creating a triangular shape. This shape is mirrored in the elaborate embroidery at the top of her skirt, forming base to base triangles. These two triangles are at the heart of the composition.
Where else can we discover the use of repetition? If you look at the first image I've included you'll see that Velázquez has used line as a repeating motif throughout the painting. The decorative lines of the embroidered dress are repeated in the line of flowers in Mariana's hair. We end up circling through the composition, moving up and down between the horizontal lines in the hem of the dress and the strong red horizontal line in the central portion of the painting. Our eyes travel back down through the winding pathways in the bodice and upper skirt. All of this movement balances the otherwise static position of the figure, serving to enliven the composition.
I did promise you some more obvious examples of the use of repetition and here they are.
Markus Linnenbrink
Mona Hatoum
Lorna Simpson
Barry Mc Gee
Eva Hesse
Jennifer Steinkamp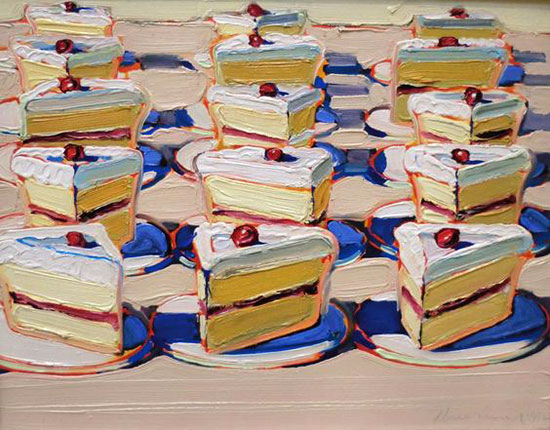 Wayne Thiebaud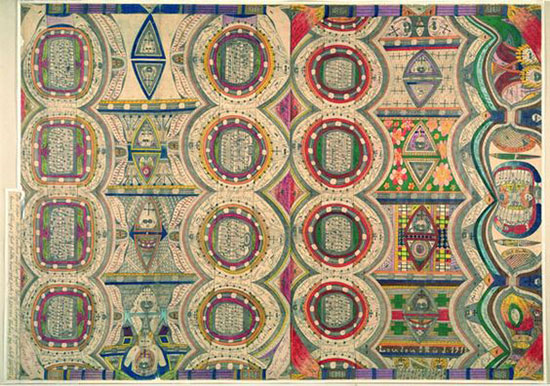 Adolf Wolfli
Yayoi Kusama
Charles LeDray