This week's blog entry is one of our favorites first posted in October, 2015…
I recently rediscovered the work of the late Domenico Gnoli and I fell in love, all over again, with his wonderful paintings. Let me share some of my thoughts about his work.
The first thing that comes to mind when viewing Gnoli's paintings is their intimacy. His viewpoint is a very tight close up – way past the borders of conventional personal space. It's what you would see if you were a child being hugged in your parent's arms, a lover embracing their sweetheart, a tailor examining the detail of a seam or button hole, or a hairdresser making final adjustments on a client's new hairstyle. It's not an alien point of view but it is a special one, something we don't experience routinely.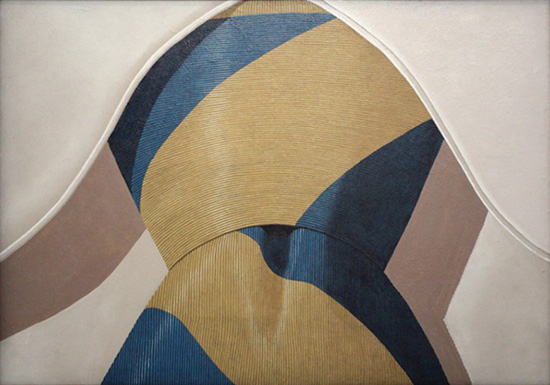 At the same time Gnoli's compositions seem monumental. For all their intimacy they also look like massive forms approaching the scale of Mount Rushmore or the Lincoln Memorial in Washington D.C. It's true that some of his paintings are large (six feet tall or more) but even those paintings seem like they are only hinting at the real size. Sometimes the looming shape of the main object nearly fills the rectangle of the canvas leaving just a sliver of empty space along an edge. At other times the object totally fills the rectangle and seems to extend way beyond its borders. In both instances it makes the scene appear huge, like a land form too large to accurately capture in a single painting.
Gnoli's compositions are very formal and calculated. Precise shapes – each with their own perfectly tuned color or texture – lock together like pieces in some sort of high-stakes jigsaw puzzle. Even a casual viewer can see that nothing in these paintings has been left to chance.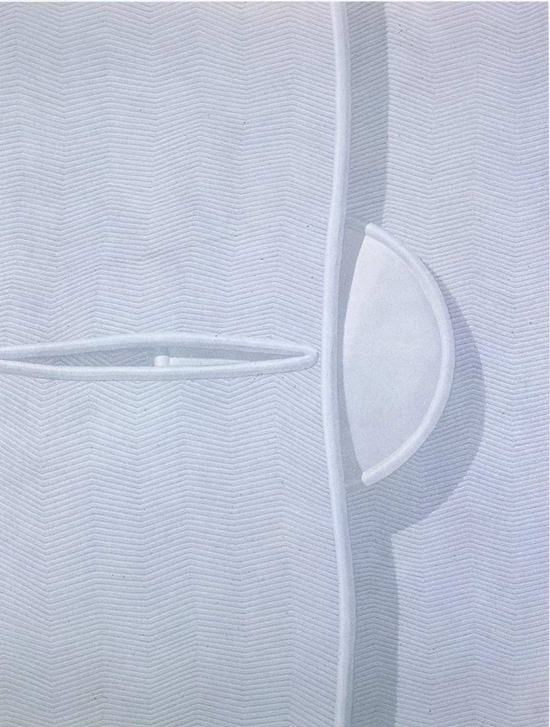 Another thing that stands out when viewing one of Gnoli's paintings – particularly when you see one life size – is his patient and painstaking attention to detail. His paintings are not as obsessive as the photo realist painters but because he chose such a small detail of a larger scene he needed to lavish attention on subtle nuances such as light falling on strands of hair or the translucent surface of pearl buttons. In some of his paintings the three-dimensional texture of a fabric's weave mixes with the cloth's printed pattern and both texture and pattern extend over the entire surface of the painting. It's an unrelenting attention to detail that gives his paintings tremendous authenticity.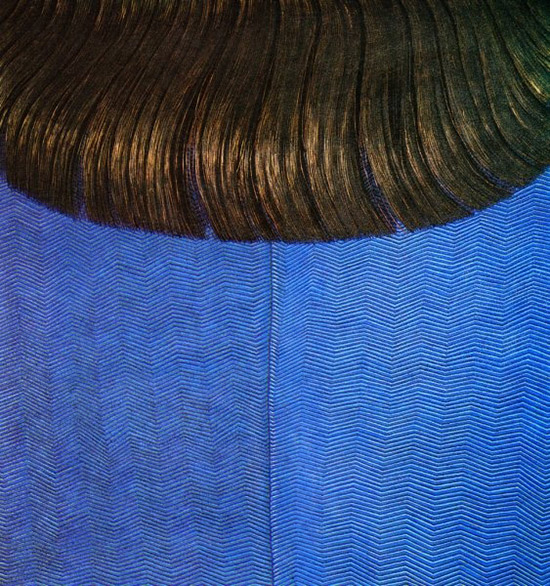 Apart from all these physical characteristics there is a pronounced but intangible "feeling" about Gnoli's paintings. They seem eerie and magical in a way that is somewhat reminiscent of the surrealist painters Magritte and de Chirico. Yet, there is nothing overtly manipulative in Gnoli's images. Time, space and objects are very normal here. There are no improbable juxtapositions. It is obviously just the unusual close up point of view and the carefully arranged compositions that create this psychological edge to the scenes.
Domenico Gnoli was born in Italy in1933. His father was an art historian and his mother was a ceramics artist. He was trained as a theater set designer but soon became an illustrator and then a painter. Gnoli moved to the United States in the 1950s where he worked for Sports Illustrated, Fortune, and other magazines. In 1969 he had his first major exhibition at the prestigious Sidney Janis Gallery in New York City. The next year, at age 36, he died from cancer.
In his brief career Gnoli produced a modest number of paintings but his vision was so focused – and each painting reinforced that vision so strongly – that he left the art world a sublime and easily recognizable legacy.