As I luxuriate during this summer break I'm thinking about all the fun activities in which I could participate. If I combine food with those adventures I'm totally content. How about floating in a sea of jello or visiting a jello building? Sound good? If so, you'll enjoy this post from March 2016.
Jelly Buildings and Waterfalls of Chocolate: Bompas and Parr
Sam Bompas and Harry Parr are two incredibly prolific English artist/designers who collaborate to create stand alone sculptures and large installations. Nearly all their many artworks use food as a primary material and are designed to engage our sense of taste. 
"Food is the most photographed thing on the planet," Bompas says. "As an industry it is bigger than creative tech and aerospace."

Sam and Harry have been friends since their student days together at Eton and they have been partners since 2007. Sam studied geography and worked in finance. Harry studied architecture. Their early collaborative efforts focused on molded jelly versions of buildings by famous contemporary architects as well as historic landmarks such as St. Paul's Cathedral in London. Over the years their professional practice has expanded to include all aspects of traditional jellymongering as well as experimental and customized applications of the craft. Today their studio – Bompas & Parr – includes a diverse team of designers, technicians, architects and cooks.
Since those early days of jelly molds Bompas & Parr have expanded their range of materials and have worked with an impressive list of corporate partners. That list includes Walt Disney, Louis Vuitton, Vodafone, Kraft Foods, Heinz, Intel and Mercedes-Benz. Today they refer to themselves as "experience designers." 
In 2013 they collaborated with technicians at the Guinness brewery in Dublin to create a permanent multi-stage tasting room for visitors. 
Working with the organic sweetener company Truvia they created an entire garden/amusement park inspired by the aesthetics of cake decorating. The garden was on the roof of Selfridge's department store in London and included a miniature golf course as well as a rowing pond.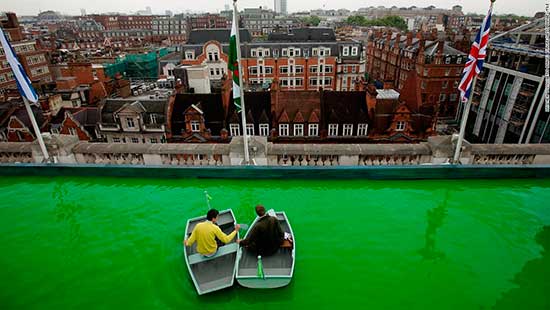 Bompas & Parr have floated the historic 19th century vessel, SS Great Britain, on a sea of 55,000 liters of lime flavored green jelly. Limes were essential cargo on ships of this era (the vitamin C prevented outbreaks of scurvy during long voyages).
This year they created Bompas & Parr's Alcoholic Architecture, a bar with atmospheric clouds of gin and tonic mist. Customers could drink, breath or simply hang around and absorb the alcohol.
Bompas & Parr embrace spectacle and showmanship in the grand tradition of P.T. Barnum. They have barbecued steaks over molten lava and built a 32 foot tall chocolate-centric climbing tower with cascading four ton chocolate waterfall. For New Years Eve 2013/2014 they worked with Vodafone and the Mayor of London to create the world's first multi-sensory fireworks display. Fruit-flavored and scented clouds were released at ground level to match the fruit-colored pyrotechnics exploding in the sky above the city.
Although food and taste are core elements of the Bompas & Parr studio, they also explore other sensory experiences. This Valentine's Day, for example, they collaborated with Perrier-Jouët Champagne to create an exotic flower shop. In this shop the blossoms of the flowers were painted with thermochromatic inks that change color when heated – heated by being held in your hands or next to your body. The blossoms also respond to the heat of your and/or your lover's breath.