Several weeks ago I reposted an article about embellished vehicles that we first presented in March of 2016. Let's continue that series as we celebrate the end of summer and the beginning of the Fall travel season. Have an artful time on the road.
Decorated and Transformed Japanese Trucks
Trucks, buses, taxis and other commercial vehicles around the world are often transformed by their owners into impressive rolling works of art. Their shapes are modified, their surfaces are decorated and new textures are added. In this series of blog posts we are focusing on vehicles in different countries that have been modified and embellished as cultural or pop-cultural statements. 
In a previous post we featured the obsessively decorated trucks of Pakistan. You can read that post, Summer Travel 2018. 
In this post we focus on the Dekotora (or decorated truck) sub-culture in Japan.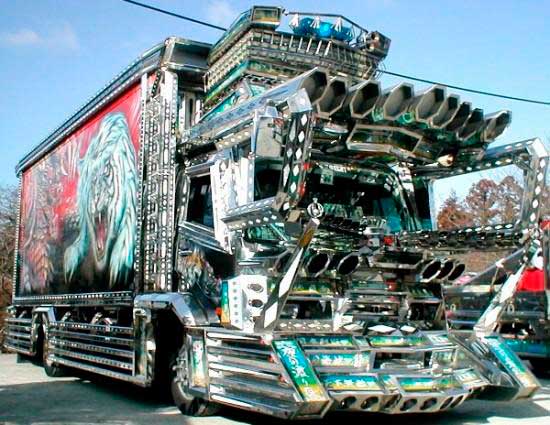 Dekotora started in the northern part of Japan with truckers who haul fish to market. When they needed to replace rusted out parts of their truck's body they often used salvaged metal meant for other purposes. Fitting the unlikely parts together led to one modification after another. Over time the truckers developed an appreciation for the transformed and inventive combinations created by this process. They also pushed the boundaries a bit with each layer of add-ons. Eventually a unique sub-culture of modifying and personalizing large trucks emerged.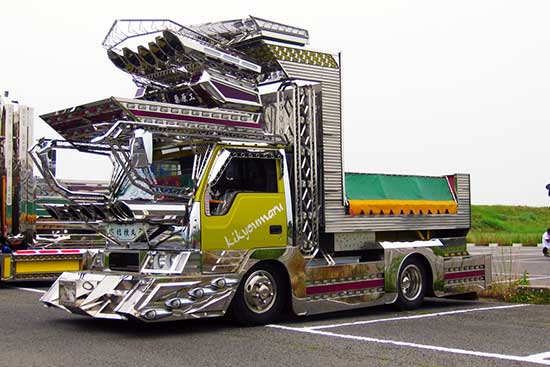 In the mid-1970s the first film in a series of popular movies was released. That film, Truck Guys (or Truck Rascals), featured the adventures of a driver in his dekotora roaming across Japan. The movies introduced these trucks to the general public and created a cult following. Truckers modified their rigs in the hope of getting a role in one of the films. And the general public became more and more in love with dekotora. As a result this regional pop-culture phenomenon expanded to include the entire country.
Among the many enhancements that make these dekotora show trucks so amazing are full size murals airbrushed on both sides of the truck bed, thousands of pounds of polished stainless steel and chrome plated metal designed for maximum theatrical effect, and cabs that are luxuriously outfitted with designer fabrics, chandeliers, and complete entertainment systems. They also have elaborate in-truck video networks to help with both navigation and security. It is not uncommon to spend well over $100,000 USD – and take as long as five years – to completely modify just one truck.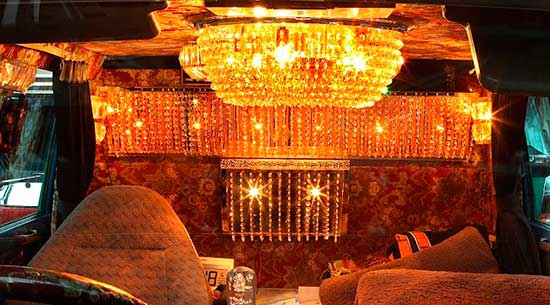 Some of the most impressive visuals are created by the trucks' lighting. Many dekotora have hundreds – even thousands – of lights (fluorescent, neon and LED) that require auxiliary generators to power them. Dekotora with all their lights blazing can be seen from as far away as five miles. The lights grab so much attention that fully-outfitted dekotora are banned from driving on highways with their display lights turned on.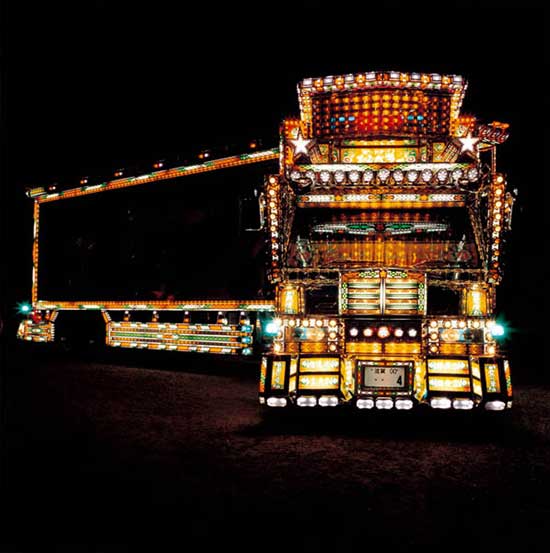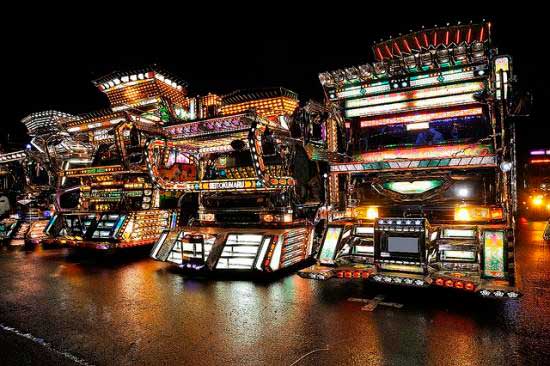 Over time dekotora modifications have captured more and more of the spirit of pop culture in Japan. The trucks are now a mind boggling blend of casino lights, bling jewelry, computer wizardry and robotic warriors from science fiction movies. 
You can see more about dekotora through the Pacific Standard and Japan Info.